Employers can post job openings on OfferUp Jobs to connect with qualified local candidates. The FAQs below will help you learn more about posting a job.
We're always testing new and improved features in the app. As a result, some features may not be available to all users at the same time. 
Jump to an FAQ:
---
Who can post a job?
At this time, only businesses can post jobs on OfferUp. Individuals (non-business entities) cannot post jobs. For more information on our jobs policies, see Prohibited jobs guidelines.
How do I post a job?
You can post your job from our mobile app or from the web at OfferUp.com.
Post a job from the app
To post a job from the app, complete the following steps:
Open the app and log in to your account. If you don't have one, create an account. 
Tap the Jobs tab, then tap Post a Job.
On the Job Overview page, complete each field, then tap Next.
On the Confirm Purchase page, agree to the Terms of Service and Privacy Policy, then tap Confirm Purchase.
On the app store purchase dialog, select your payment method, then tap Buy to complete your listing.
Post a job from the web
To post a job from the web, complete the following steps:
Visit OfferUp.com and log in to your account. If you don't have one, create an account. 
Click Post a Job and complete each field on the Job Overview page, then click Next. 
Preview your listing and review it carefully to make sure it's error-free, then click OK.

 

Select your Payment Method, agree to the Terms of Service and Privacy Policy, then click Confirm Purchase to complete your listing. 
Your listing will be live in the jobs feed within a few hours. If you experience any issues while posting a job, please reach out to us by clicking the Contact Us button below.
What information do I need to provide to create a job listing?
To create a job listing, you'll be asked to provide the following information:
Job Location (zip code)
Optional: Workplace Type (on-site, remote, or hybrid)
Job Title
Job Description
Job Category (such as customer service or hospitality)
Employment Type (part-time, full-time, or gig)
Optional: Shift Type (day, night, swing, or flexible)
Optional: Pay (a fixed amount or salary range)
Company Name
Optional: Company Logo (upload a JPG no larger than 5 MB)
Apply Method (website, email, or phone)
Can I post job listings in bulk or get volume pricing?
Not at this time, but we're working on it and would like to hear from you. If you're an employer who posts more than 50 jobs a month and you're interested in volume/wholesale pricing, automated job feeds, or industry-specific offerings, please complete our Jobs Contact Us Form. A member of our team will reach out to discuss how OfferUp can help support your business.
How long will my job listing stay active in the feed?
Your job listing stays active in the feed for 30 days from the date of purchase. When it expires, it will be removed from the feed. Expired job listings remain on your private My Jobs page and cannot be reposted to the public feed. If your listing has expired, but you want to keep promoting your job, you'll need to create a new listing and pay a new listing fee.
How do I check to make sure my job is live in the feed?
To check if your job is live in the feed, search for it by job title or company name. Make sure to set the correct location or zip code for the job listing. But be aware that it may take a few hours for your new job listing to post to the feed, so don't worry if you can't find it immediately. Just give it some time. Of course, if you experience any issues with your listing, please reach out to us by clicking the Contact Us button below.
Can I get refunded for a job listing?
We do not offer refunds for paid job listings. However, if you've experienced an issue with a job listing, please reach out to us by clicking the Contact Us button below.
How do applicants apply to my job?
You choose how you want job applicants to apply when you create your job listing. On the Job Overview page, select an Apply Method to direct applicants to your Website, or to contact you by Email or Phone to start the application process. Depending on your selection, you'll need to provide a website URL, email address, or phone number. If you'd like to change the Apply Method you selected, you can edit your listing at any time from your My Jobs page.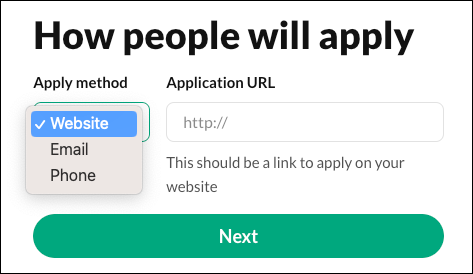 Job candidates and employers cannot message each other through the OfferUp app or OfferUp.com. All communication between applicants and employers occurs outside of the app or website.
Can I see if anyone's looking at my job?
Yes! See how candidates are engaging with your listings using the jobs Insights dashboard. For more information, see Hire smarter with Insights.
OfferUp cannot provide data on how many job seekers actually apply to your listings since all applications occur via third-party websites, phone, or email.