In the app, you can update any part of your OfferUp account including your profile picture, contact information (email address and phone number), password, color scheme, notification settings, and privacy settings.
Log in to get started.
Updating your profile picture
Tap

Account

.

Tap your avatar to update the picture.

Tap

Take a photo

to take a new picture with your mobile device's camera or tap

Select photo

to choose one from your gallery.

Once you have a photo you like, tap

Use photo

.
Updating your display name, contact information, password, and location
These options are listed under Account in Account Settings.
Tap Account

.

Tap

Account Settings

.

Tap

Edit

next to the information you want to update.

Follow the prompts to update and save the information.
If you change your email address, you'll need to verify the new address. Check your email and follow the instructions. If you didn't get the email, tap Confirm email to try again.
Selecting a color theme
These options are listed under the Color theme in Account Settings.
Tap Account

.

Tap

Account Settings

.

Choose your preferred theme.
Device setting will detect the theme you've chosen for your overall device and automatically apply it to the OfferUp app.


Light mode is usually the default theme and uses dark text displayed against a lighter background.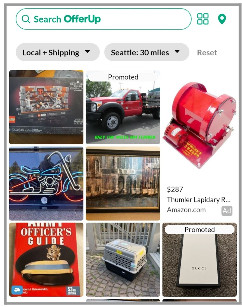 Dark mode uses lighter text displayed against a darker background.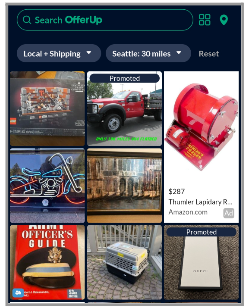 Adjusting your notification settings
These options are nestled under Notifications in Account Settings.
Tap Account

.

Tap

Account Settings

.

Tap

Edit

next to

Email

to update your email notification preferences or

Push

to update your in-app notification preferences.

Uncheck the boxes of any notifications you want to opt-out of.

Tap

Done

.
Tip: You can opt back into notifications at any time by rechecking the box!
Adjusting your privacy settings
These options include Advertising opt-outs and iOS Account Deletion and are nestled under Privacy in Account Settings.
To engage with these options, start by tapping

Account, then tapping Account Settings

.
Advertising opt-outs
Tap

Edit

next to

Advertising

.

Tap the toggle to turn it on and opt out of a specific option.
Google non-personal identifier opt out
Google Platform Provided ID (PPID) is an anonymous user id that we use with our advertising partner Google that allows us to keep your personal identifiable information private while serving you relevant advertising based on your activity on OfferUp.
If you opt-out of PPID you'll continue to see ads on our platform, but they will be less relevant to you.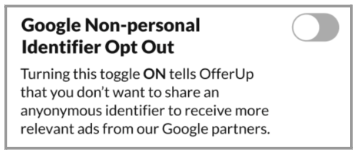 Personal information opt-out
The California Consumer Privacy Act (CCPA) and Virginia Consumer Data Protection Act (VCDPA) gives consumers in those states more control over the personal information that businesses share about them by granting consumers in those states the right to request to opt-out of targeted advertising, cross-contextual advertising, and selling consumer's information.
While we don't share personal information in exchange for money, we do allow Google's online advertising service to collect identifiers (such as cookies and other device identifiers) and internet or other electronic network information (such as the webpage you visited) through the OfferUp Service for the purpose of sending personalized ads to you.
If you are a California or Virginia-based user and do not want to see more relevant advertising (you will continue to see ads), you may indicate your choice by turning on the "Do not sell" toggle in your privacy settings.
iOS Account Deletion
If you have an Apple iOS device, you can delete your OfferUp account from within the app.
Tap

Account Deletion

.

Tap

Begin account deletion process

to confirm your account deletion.
Note: Once you use the iOS Account Deletion feature you will be unable to create a new account using the same email address. This deletion request is immediate and your account and postings cannot be restored if selected.