Answer quickly
Respond to messages as soon as you can. Great buyers and sellers typically respond within an hour, and sometimes within seconds.
Tell them if you change your mind
If you change your mind, a simple "Thanks, but I changed my mind" will let everybody move on.
If they don't answer, check the receipts
If the other person doesn't respond, check that they saw your message.
Two white check marks like the ones below mean they've seen that message.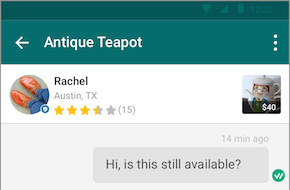 One green checkmark means they haven't seen it yet.

When they don't respond, it's OK to continue searching for another item or buyer. To avoid confusion, it's kind to let them know about your change of plans.
Stay safe
Related topics