At OfferUp, trust and safety is our top priority. One way that we seek to keep our community safe is through the TruYou membership program. TruYou is designed to help us verify that users are real people (not bots) and to detect and prevent identity fraud on our platform. Joining TruYou can boost your reputation and can make others feel more confident about doing business with you.
Membership in the TruYou program indicates that a user has provided OfferUp with the requested identification, and that our third-party identity service has validated the information. However, a TruYou membership doesn't guarantee in any way that a user is who they say they are, or that they're trustworthy or safe to interact with. To protect yourself, always follow our
safety tips
and use good judgment when transacting with others on OfferUp.
How it works 
TruYou membership is free and completely voluntary (in most cases). You can sign up at any time on our mobile app. However, in some situations, OfferUp may require you to join TruYou to maintain the integrity and security of your account. For example, we'll prompt you to join TruYou if we notice unusual activity on your account that may indicate an account takeover or fraud-like behavior. In these cases, your account will be locked until you submit a TruYou application and receive an approval.   
To join TruYou, you'll be asked to provide the following information:
Your mobile phone number—for immediate verification
Two photos of your government-issued identification (ID)—a valid US driver's license, state ID, or passport
A selfie—a photo or video of your face taken on the spot from your mobile device
Your ID and selfie are processed by our partner Onfido, a secure third-party identity service. Onfido verifies your information for authenticity, and checks that the person in the selfie matches the ID that you provided. If your application is approved, you'll receive an email confirmation from OfferUp. You'll also earn a badge on your public profile that signifies that you're a verified TruYou member.
How to apply 
To apply for the TruYou program, complete the following steps in the OfferUp app. Please note, you can only apply for this program through our mobile app, not on our website.
On the Home page, tap your profile picture in the top right corner to access your account.


On the Account page, tap Account Settings, then tap Join TruYou.


Tap Verify Phone Number and enter your mobile phone number. We'll text you a verification code to copy and paste into the app. Note: If your phone number is already verified, you'll skip this step.


Tap Verify Official ID > Choose Document.


Review and accept Onfido's Facial Scan Policy and Release, Privacy Policy and Terms of Service, then tap Enable Camera to open your device's camera. Take two photos of your government ID and submit them.


Tap Take Selfie and line up your face on the camera screen. Snap a photo (or take a short video) and submit it.
And you're done! You'll see an Application Sent pop-up. Please note, while most applications are processed within minutes, it can take up to 48 hours for your application to be fully processed. We'll send you an email to let you know if you're approved or not. 
TruYou badge
When you become a verified TruYou member, you'll receive a special badge on your OfferUp public profile. This badge shows other community members that you've passed OfferUp's TruYou identity screening. Your TruYou badge will remain on your profile for the lifetime of your OfferUp account and cannot be removed. Under certain circumstances, you may be asked to re-verify your TruYou status.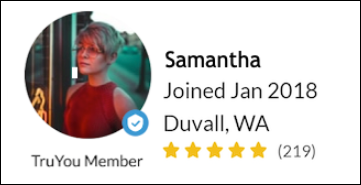 Protecting your privacy 
For the safety and security of your data, OfferUp does not collect or store your ID or selfie. Your data is collected, encrypted, and securely stored by Onfido. To learn more, see the Onfido Privacy Policy. Additionally, the information you provide is never accessible or shared with other OfferUp users. 
For more information on the TruYou process, please see OfferUp Terms of Service, Section 5, "TruYou Feature".