OfferUp Premium is a paid subscription that gives you an ad-free experience on OfferUp. Premium also earns you an exclusive profile badge that helps you stand out in the inbox and on the app. Subscribe today to enjoy the Premium experience!
Jump to a section:
OfferUp Premium benefits
No ads. Only deals. Premium removes third-party ads from your desktop and mobile feed so that you can shop without interruption.
Items that say "Promoted" will still appear in your feed. These are not third-party ads, and clicking on them will not take you away from the app. OfferUp sellers pay to promote their items at the top of the feed in featured locations. To learn more, see
Selling faster with promotions
.
Increased visibility. Premium helps you get noticed by sellers. The Premium badge around your profile photo makes you more visible in the Messages inbox and in other places. (This benefit applies to the app only.)
Stand out in the inbox. Premium gets your messages seen first with inbox priority. New messages sent to a seller are moved to the top of the list.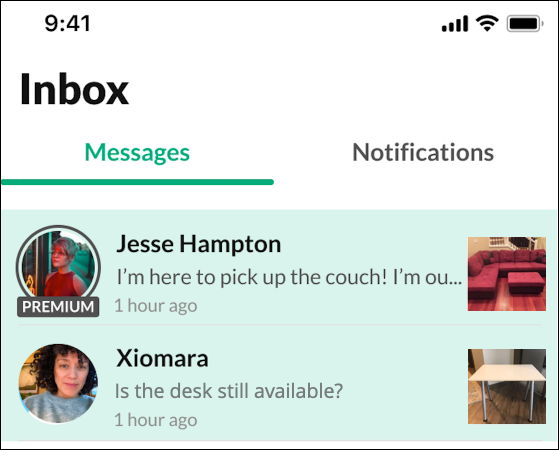 Subscribing to OfferUp Premium
OfferUp Premium is available through the app as a paid monthly subscription. Signing up is easy!
To get started in the app:
Tap Account, then tap OfferUp Premium.
On the OfferUp Premium page, tap Continue to open the app store purchase dialog.
Select your payment method, then tap Subscribe.
After you subscribe, the OfferUp Premium logo will display on your Home page. This means that your Premium benefits have been activated.
Canceling OfferUp Premium
You can cancel your OfferUp Premium subscription at any time through the app store. To learn how, see the app store instructions for your type of device:
When you cancel, your Premium benefits will continue to run until the end of the billing period. Then, your monthly payments will stop and your subscription will expire. You can re-subscribe to Premium at any time.
Refunds
There are no refunds (prorated or otherwise) for canceling your OfferUp Premium subscription. All Premium plans run until the end of their billing period, which allows you to enjoy the benefits until they expire.
For example, if you sign up for Premium on the first day of the month, then cancel your subscription in the middle of the month, your Premium benefits will continue until the end of the month. Then, your subscription will expire and you will not auto renew for the following month.