OfferUp helps sellers ship items that they sell via the OfferUp marketplace. While not all items can be shipped, most can as long as they follow OfferUp's Shipping Policies. 
The following articles together comprise OfferUp's Shipping Policies:
As a seller, you are responsible for reviewing and complying with OfferUp's Shipping Policies.

When your item is ready to be shipped, make sure to package it securely and use the mailing label provided by OfferUp. The label will be in your email and also available in the app. 
The following guidance on how to package an item will help you get your items to buyers on time.
Use the right box size and packaging tape
Packages are only sent via the US Postal Service (USPS) and must be dropped off at a USPS approved location such as your mailbox, Post Office, or a USPS approved postal provider.

Do not ship packages through other mail providers such as UPS, FedEx, or DHL. Sellers who choose to ship their items via a non-USPS shipping platform will not be supported by OfferUp or covered by the 2-Day Purchase Protection Policy.


 

OfferUp only supports and protects items that are shipped with the OfferUp provided shipping label and mailed at an approved USPS location.

Don't use boxes marked specifically for other carriers (UPS, FedEx, DHL). USPS may not accept them and your package may be undeliverable. 


Choose a plain, sturdy box that's big enough for the item and use sufficient padding to protect the item during shipping. Small items may fit into a padded envelope.


Use the smallest package possible since empty space can cause damage if the contents inside get jostled around.


D

on't confuse packaging tape and storage tape

. Use packaging tape! It's sturdier than storage tape.



Make sure that the actual package size is the same or smaller than the package size selected for the shipping label. If the package is larger than your selection, the carrier may charge more. Available sizes include: 

Extra Small

(up to 8 ounces): Good for things like earbuds, small cosmetics or toiletries, wristwatches, and other small items (with padding).

Small

(approximately 9" x 6" x 3"): Good for things like hardback or paperback books, sunglasses, mobile phones, and other small electronics (with padding).

Medium

(approximately 12" x 9" x 6"): Good for things like shoes, purses, and game controllers (with padding).

Large (approximately 14" x 10" x 6"): Good for things like countertop kitchen gadgets or hand tools (with padding), and larger pieces of clothing (sweaters, coats).
Extra Large (approximately 18" x 12" x 8"): Good for things like printers, soundbars, small speaker systems, video game consoles, handheld appliances, and car seats (with padding).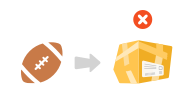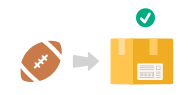 Don't over/under pack your box
Don't overpack the package, or it could burst in transit. If your package is close to the size of your item, pick a bigger box and add extra padding. 




Make sure to account for this when selecting a package when you post the item.





Make all items as secure as possible—the more they move, the more likely they are to break.





Give the box a shake: does the item move? If so, use more padding! Keep the item from touching the outer box by using padding like crumpled newspaper

, packing peanuts, grocery bags, or bubble wrap.





Make sure the box won't come open by sealing it with 2-inch wide packaging tape.
Use your OfferUp label
The label helps you track your item, from the carrier to your buyer's doorstep. As soon as you accept a shipping offer, you get the label you need.

And you do need it—you won't get paid without it.
If you have not received a label or run into other problems, reach out using the Contact Us button below

 to get further assistance.





Attach the provided shipping label by taping down each edge with clear packaging tape.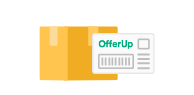 Properly label packages that include batteries and hazardous materials 
Packages containing batteries (including lithium batteries) MUST be correctly labeled using black permanent marker with the following text:

"Restricted Electronic Device"

and

"Surface Transportation Only".



Items identified as

hazardous material

by USPS, or any other carrier, MUST be packaged and shipped in their own box.

Never

include hazardous material in a box with non-hazardous material.  All boxes containing hazardous material MUST be labeled using black permanent marker with the following text: "

Surface Transportation Only".

For more information about eligible items, fees, and restrictions, see How to ship with OfferUp

. 
Reduce, reuse, recycle!
If you decide to use an old box or packing material, make sure all old markings are removed or covered, including barcodes, addresses, or hazardous materials signs.