OfferUp lets you ship across the contiguous 48 states through the US Postal Service. You can always meet buyers to exchange local items.
To get started, see Shipping for buyers, Shipping for sellers, and Get paid after shipping.
Buying through shipping:
Selling through shipping:
How shipping works
Sellers can make their items available for shipping by choosing Sell and ship nationwide when they list an item. You need to verify your email address with us first.
When buyers see an item they like, they can choose Ship to me, make their offer, and pay through the app.
We send sellers a pre-paid shipping label. Using this label is required! That's how we track shipments and sellers get paid.
Eligible items
Most shippable items can be sold on OfferUp.
Questions? Make sure you follow our shipping policies and meet these criteria:
DO ship:
Items under 20 pounds
Packages with no side longer than 18"
Boxes that fit one of the 4 available size ranges
Items priced between $2 and $750
Items ready to ship
Items that may not be fulfilled on time, such as custom-order goods or event tickets, are ineligible.
DON'T ship:
Drop-shipped items
Drop-shipping is when a seller purchases items from another retailer and directly ships to a buyer. This type of product sourcing is not allowed on OfferUp.
Sellers are responsible for complying with all applicable laws and regulations regarding mailing. Please check the:
Fees
Sellers are responsible for paying a service fee.
The buyer pays for the shipping label. Shipping fees can vary, so the amounts are shown for each item. When you're the buyer, you'll know how much you'll pay before you buy.
Shipping is subject to the OfferUp Terms of Service.
How to pack
Make sure your items get to your buyers without any hiccups:
1) Use the right box size and packaging tape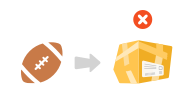 2) Don't over/under pack your shipments
Don't overpack the box, or it could burst in transit. If your box is close to the size of your item, pick a bigger box and add extra padding.
Make all items as secure as possible — the more they move, the more likely they are to break.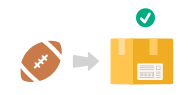 3) Always, always use your OfferUp label
The label helps you track your item, from the carrier to your buyer's doorstep. As soon as you accept a shipping offer, you get the label you need. And you do need it--you won't get paid without it. If you have not received a label or run into other problems, you can contact our team to get further assistance.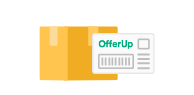 4) Sure, reuse that old box, but…
Make sure all old markings are removed or covered, including barcodes, addresses, or hazardous materials signs.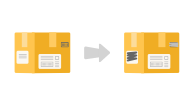 Read more about shipping on our blog.
Related links