Whether it's your first time using OfferUp, or you just need a refresher, let us walk you through the app home page features so you can start buying, selling, and job searching right away.
Our app is changing all the time. To ensure you have access to the latest features and services, we recommend that you
update the app
regularly.
Home page features overview
1 Menu
Tap the
Menu icon to access all OfferUp categories, including for sale items and job offerings. This is a handy way to navigate the app if you want to browse for items in a specific category or look at job openings.
2 Account
Tap your
profile picture in the top right corner to access your OfferUp account. This is where you'll manage your account settings, payment methods, saved items, and more. If you haven't added a profile picture, you'll see a generic
account avatar icon. Add a personalized photo to show users that you're a real person and to give your account some personality. To learn how, see Add or change your profile photo.
3 For Sale
Tap the For Sale tab to browse items available for local pickup and shipping. This is the default page that you'll land on when you open the app.
4 Jobs
Tap the Jobs tab to browse job openings in your local area or nationwide. To learn more, see Finding and applying for jobs.
5 Search
Use the Search bar to perform a more specific search by entering keywords. You can search for items when the For Sale tab is selected, or search for job opportunities when the Jobs tab is selected.
6 For You Location
Tap
For You to set your search location by entering a zip code or by sharing your current geographic location. For You indicates that the feed is personalized based on your previous interests and searches.
When the For Sale tab is selected, adjust the For You location settings to see items for sale near you. You can also set your preferred delivery method so you can shop items that are available for local pickup, shipping, or both. When the Jobs tab is selected, adjust the For You location settings to see job opportunities near you.
7 Home
Tap
 Home to return to the general For Sale feed at any time.
8 Inbox
Tap
Inbox to access your in-app messages and notifications. When you have new messages or notifications, a red circle containing a number will appear on top of the icon. This number represents how many new, unread messages or notifications you have. All of your chat messages with buyers and sellers are stored in your inbox. You can Pin important messages to the top of your inbox, and Sort messages according to your preferences.
Tap the
Notifications icon to check your in-app notifications. If you have new notifications, a little red dot will show on the top right corner of the icon. Notifications alert you about new items from sellers you follow, item recommendations, search alerts, and more. For additional information, see About notifications.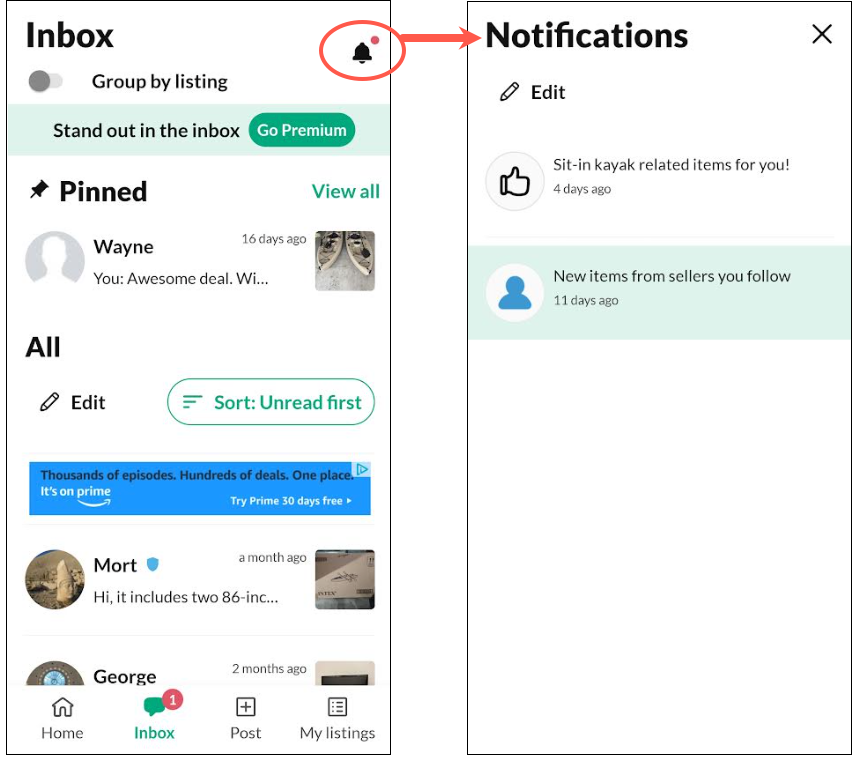 9 Post
Tap
 Post to post an item for sale in the general For Sale feed. You can add photos of your item, enter a description, set a price, and select a delivery method. To learn more, see Posting an item for sale.
The
Post
button allows you to post a
For Sale
listing only. To learn how to post a
Job
listing, see
Posting a job
.
10 My Listings
Tap
My Listings to manage the For Sale listings you've posted. You can edit listings, promote them, archive them, and more. For additional information, see Updating your listings.
The
My Listings
button allows you to manage your
For Sale
listings only. To learn how to manage your
Job
listings, see
Managing your job listings
.